Testimonials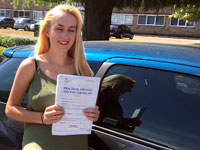 Zara
Well done
In the beginning I was terrified and did not to ever drive again but with Ian's calm and reassuring nature I was able to overcome this and keep driving until I felt comfortable. Now I have passed and feel ready to drive alone and it's all thanks to Ian.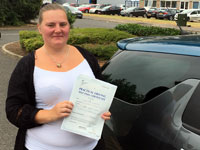 Faith
Well done
I really enjoyed my driving experience learning with Ian. My driving instructor was patient ,friendly and made me feel relaxed and confident. Ian had a lot of belief in me to pass and I did first time. :)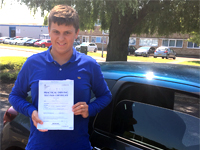 Tyron
Well done
My driving experience with Ian was a lifetime experience and what a brilliant one it was.!! I passed 1st time and only got 4 minors, all thanks to Ian! Now that I have passed, it is a shame that I won't get to experience his lessons driving lessons again, but I will always remember his lessons as being the best days of my life :)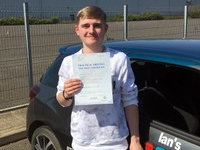 Jenson
Well done
Ian was a great instructor to learn with. Thank you.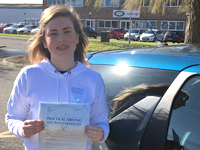 Luella
Well done
Ian made driving feel easy, nothing was to much to ask. really enjoyed my lessons. Thank you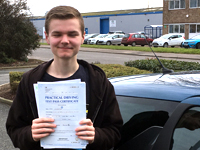 Jake
Well done
My driving experience was very pleasant. Ian was easy going, his instructions were clear, easy to understand and replicate and by the time it came to take my test, I was confident enough under his instruction that I would pass.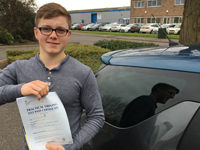 Edwin
Well done
It was great driving with Ian, I learnt on content quickly and properly, and always enjoyed my lessons and understood everything that Ian taught me. 10/10 !!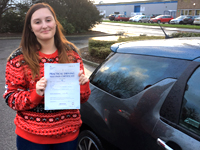 Courtney
Well done
Driving is very daunting, and at first I thought of it as a chore. However, with Ian he helped point out the fun in it. I am a very nervous person and I have overcome that. Take your time with your lessons. I passed third time and I am glad I did. Definitely recommend Ian! Very happy with the results.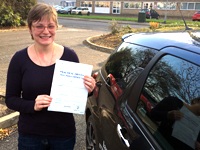 Charlotte
Well done
Thank you Ian. You made me feel comfortable and confident to pass my test. I would definitely recommend Ian to everyone.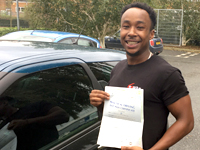 Dennis
Well done
Absolutely brilliant instructor, very efficient with the time I had with him. He got me to the required level I needed in the fastest possible time. I would highly recommend him. Thanks.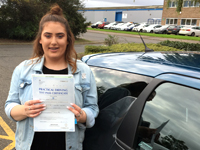 Megan
Well done
I have enjoyed driving with Ian, He built up my confidence and calmed my nerves and never let me give up. I would highly recommend him to anyone.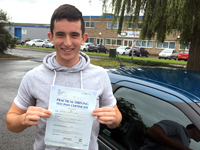 Cameron
Well done
Finally I passed! Thanks to Ian it has been a great year, somehow he has taught me to drive. With a lot of hard work and effort from myself and mainly Ian. He is a good laugh and great teacher. Thanks Ian.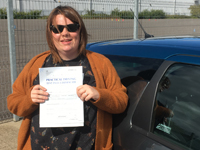 Rebecca
Well done
Ian, made me feel very relaxed and confident, I really enjoyed learning to drive with him and he made things really easy to understand. I would defiantly recommend Ian as driving instructor. Thank you so much you have made life so much easier.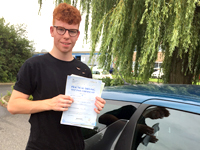 Jake
Well done
Really good driving instructor. Passed 1st time, highly recommended to others.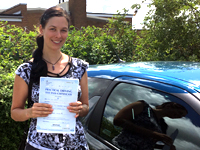 Zoe
Well done
Ian was a brilliant instructor. Very patient and explained everything in a really easy to understand way so this made driving even easier. Highly recommended, Many thanks Zoe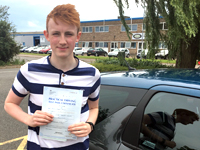 Sam
Well done
I found this to be a great experience, not only as a learner but as a customer. The fear I had was making a mistake, however Ian encouraged me to pick myself back up and try again, there was no shouting or strictness just a joint laugh at all the mistakes. This lead to a great learning environment. 10/10 wold recommend to a friend.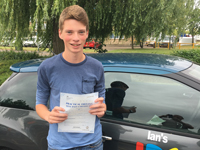 Peter
Well done
Great instructor who taught me to drive rather than just to pass the test. Even got me to use my mirrors which was fairly difficult, would defiantly recommend Ian.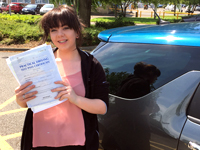 Jess
I found that over the period of time taking my lessons I found it really successful. Ian helped me so much, I couldn't have passed or been so confident with driving without the help. I had some laughs along the way while I made stupid mistakes but just laughed and carried on. Thank you Ian :)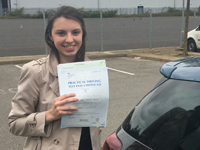 Lettitia
Well done
GREAT, Thank you Ian, Good price. Thanx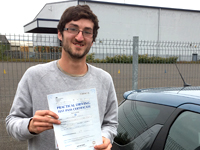 Christopher
Well done
Ian is very helpful and easy to get on with, I would highly recommend.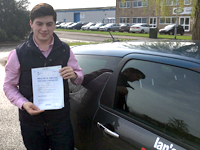 Hansel
Well done
Learning with Ian has been fantastic, Amazing instructor, Always calm and very good for the money, Thanks Ian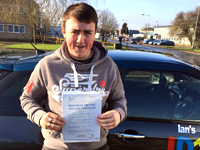 Alex
Well done, no minors
Ian was very helpful, very reassuring of my capability to drive. Kept me feeling confident and calm.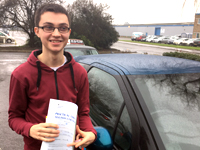 Thomas
Well done
My learning with Ian was absolutely amazing and I shave liked every second of driving with Ian, especially with his past experience with the police. I am grateful for his help and I would recommend him to anyone. He is calm and relaxed of which helps you pass your test :)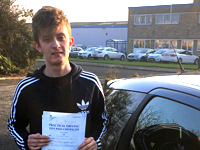 Will
Well done
Thank you Ian for helping me pass my driving test.Pleasure to learn with you, Top bloke.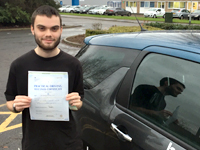 Brendon
Very well done
Great instructor! Kind and patient and helps to teach at all levels. Always looking forward to my next lesson. Will always put himself out to help where needed. I would highly recommend Ian to anyone who is wanting to learn how to drive.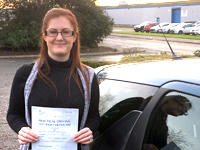 Rachael
At first driving was very exciting but also stressful at times. My confidence grew overtime and my driving improved, Ian was a very calm and patient instructor which helped me. Thanks for everything.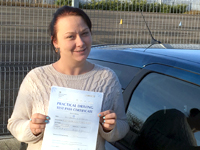 Abby
Passed
When I started learning to drive I explained to Ian about my anxiety and ptsd with driving, Ian has been so patient and understanding of that, and at the same time helped me enjoy driving. My confidence has grown, it's taken a while but I finally have passed my test, Thank you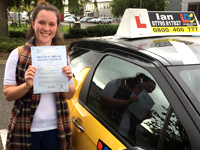 Yasmin
Well Done
Just want to say a massive thank you for helping me pass my test. I found my learning experience was great with you and you kept me on track and stopped me from getting distracted. I recommend anyone to go with you to learn to drive. :) x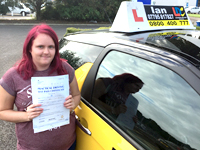 Rachel
I have been driving with Ian for a while, He is an excellent driving instructor and would recommend him to anyone, Brilliant.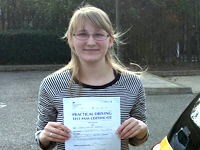 Chloe
I have really enjoyed learning to drive with Ian. He makes the experience fun and he himself is lovely. I can't thank him enough for helping me learn to drive. Cheers Chloe x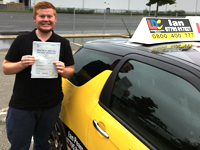 Mason
Well done
Ian has been a massive help with my driving and I finally passed , couldn't of done it without him.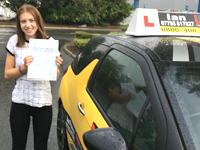 Jodie
1st time pass
Ian is a very good driving instructor. Based 1st time thanks to him.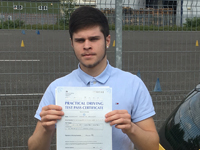 Alex
Well done
Ian was very easy to get on with, he doesn't give up on you and keeps encouraging you to pass, great instructor.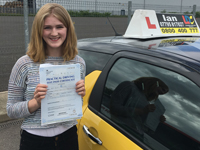 Amy
Well done
Driving with Ian is very easy, and comfortable! No matter how stupid you are he always see's the positives! Thanks for a fab time! Amy..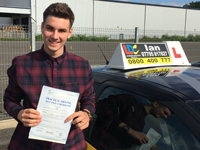 Sam
Passed 1st time
Going out driving with Ian has always been relaxed and I've felt comfortable when in his company. Thanks to Ian I have learnt to drive in good time and at a good standard, Many laughs have been shared through my experience, and I couldn't thank nor recommend Ian enough.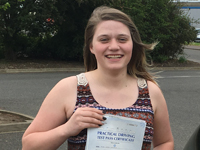 Katy
Well done
I had a good experience driving with Ian, He was always friendly and gave me clear and helpful instructions, Thank you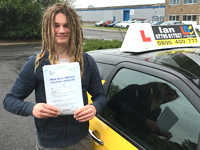 Tom
1st time pass
Very helpful learning experience, only took 14 lessons to pass with only two faults, very happy with the result. I always had a relaxed environment in the car, which made the driving test more relaxed because i was used to being calm in the car.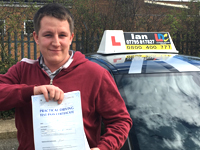 Jake
Well done
10 out of 10, top bloke, very helpful, many thanks Ian.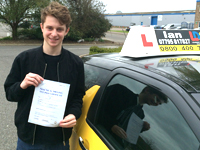 Brandon
Found Ian's lessons enjoyable and very helpful, even if I did make some mistakes, thank you.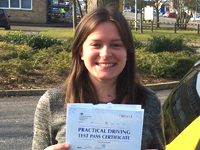 Katy
Well done
Ian was very supportive during the whole learning experience. Ian never got angry if I made a mistake, knowing my strengths and weaknesses well Ian was able to base the lessons on what I needed, He put me in control of my learning. Thank you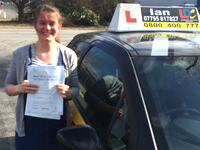 Lucy
Well done
Ian helped me to gain confidence and the skills I need to pass my test. Thank you.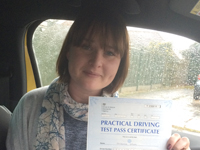 Samantha
Well done
Ian has made learning to drive easy and fun. Taking things step by step and never rushing me. When i started learning 6 months ago I would never have thought my confidence would progress the way it has. The only down side from passing my test 1st time will be missing our weekly chats en route. Thanks Ian for all your help and support.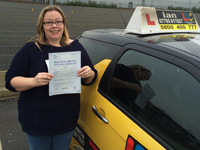 Angie
I would like to thank Ian for all the help he has given me, I couldn't have done it without him. I highly recommend Ian to all my friends and there friends. Thank you so much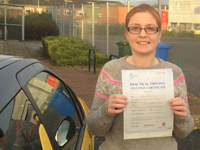 Annya
I previously had a different driving instructor in the past and gave up lessons. But after starting with Ian felt comfortable, He is a very good instructor, does not not judge, always very helpful and supportive. I am going to miss my driving lessons.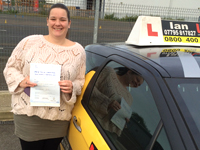 Danielle
Passed 1st time
Fantastic driving instructor, would recommend to everyone, brilliant support, easy to talk to and ask questions about any concerns i had. Felt comfortable and also built my confidence while driving.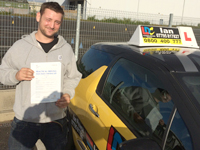 Ed
No minors
Since using Ian as my driving instructor, my confidence has come on leaps and bounds. He is very calm which in turn makes you calm. I would highly recommend to any learner, that you have your instruction carried out by Ian. Thank you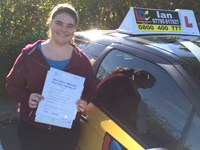 Kayleigh
Well done
I couldn't have asked for a better instructor. I thoroughly enjoyed all the lessons and now feel like I will be completely safe on roads in the future, I have been taught to drive not just pass a test.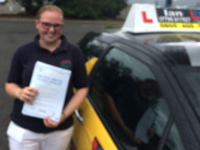 Elizabeth
Ian is an absolutely brilliant driving instructor and I've thoroughly enjoyed having lessons with him. He is really friendly and you can definitely have a good laugh with him.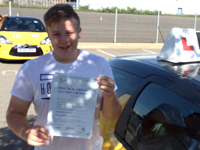 Callum
Ian is a great instructor, he has helped me progress my learning in the car to the point I am comfortable with all situations. He is a great instructor.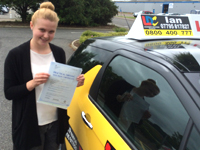 Zara
Ian is a very good driving instructor. He has got me out of plenty of bad habits that i had previously picked up. Since having ian as an instructor my driving has improved massively helping me pass my test first time. Highly recommended.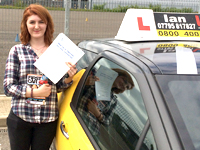 Ella
I've been driving with Ian for around a year and a half while also at university and he makes each lesson fun and relaxing. He makes driving really easy and simple to understand and is always on hand to offer up advice. Ian's particularly great when you mess up - he just laughs at you and chills you out before helping you move on. He's also fab at life advice and anecdotes.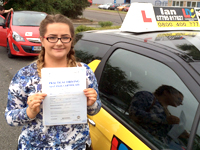 Emily
Ian was a great teacher, he made it feel so easy to drive. Im so happy I passed and thank you for telling me to look in my mirrors.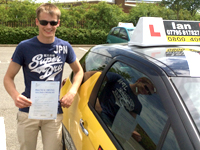 Toby
Really good instructor, way better than parents, thank you.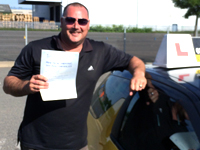 Richard
Passed 1st time with Ian, due to excellent tutoring and patience, Easy going and no nerves on lessons, all contribute to a first class instructor. Cheers fella!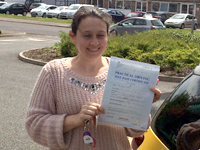 Danielle
Fantastic instructor, really good and patient.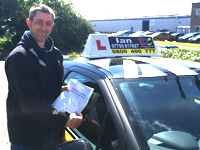 Neil
Passed 1st time
Could not have had a better instructor.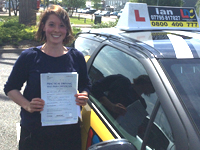 Leah
4th driving instructor, and the only one to enable me to understand what I am doing! Ian was very good at teaching manoeuvres.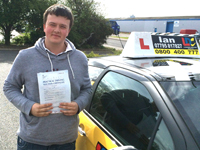 Rhys
Ian always answered my questions. Right from day one if I did something wrong we would discuss it and try again. Nothing was ever rushed just take your time and go over it again. If you wanted to go over anything Ian was happy to do so. I can not fault Ian, the car was always clean and tidy and Ian is polite and friendly and always ready to cover stuff, very supportive and always has time for you.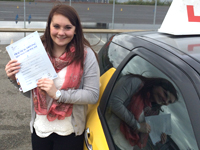 Zoe
Ian has been a very informative and thorough instructor. I have such a good driving experience with him and would recommend him to anyone. Thanks Ian.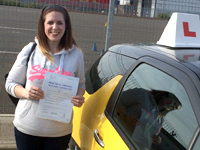 Cheryl
Ian has been amazing, I struggled with my nerves and he has really given me the confidence to pass. I would 100% recommend Ian to anyone wanting to drive, can't thank you enough.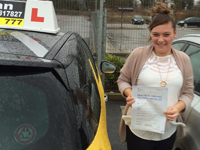 Jess
Driving with Ian was amazing, He really helped my confidence with speed aswell as driving on busy roads. Without Ian I wouldnt have this skill for life he has given me. I couldn't have asked for more fun / calm instructor for my lessons, I will really miss driving with Ian. Thank you for giving me and my children a bright and safe future. Thank you so much, Jess.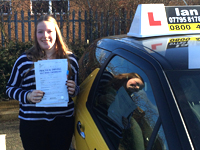 Katie
I felt very comfortable driving with ian, He made me feel confident in my driving and in myself. Would recommend / have recommended ian to others. Thank you.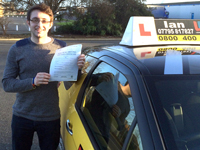 Sam
Passed 1st time! Fantastic instructor, When learning Ian explained everything clearly and was very patient. I would definatley recommend him.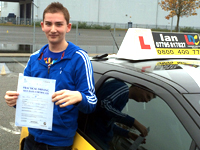 Ryan
Ian is a friendly instructor, easy to chat to, very good teacher, highly recommended.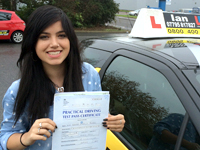 Deanna
Ian is a pleasure to learn how to drive with. He is a laugh and a lovely bloke. He makes driving relaxing and comfortable and you will be confident in no time. I am very happy with my choice in picking Ian and would recommend him to anyone. The only bad thing I can say is now I have passed I won't be driving with him anymore. So thank you Ian for helping me.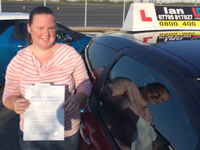 Tanya
Ian's awesome! Made me feel very relaxed learning with him. I wasn't pushed too much, Thoroughly enjoyed my learning experience. Thank you.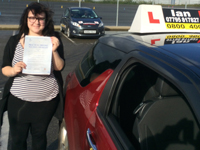 Brittany
I found ian through a recommendation of a friend who said that he was a brilliant instructor. When i came to have my first lesson i was very nervous, after meeting ian my nerves soon stopped.
Ian made me feel comfortable and made my driving experience fun and also informative. I would highly recommend him to everyone, Thank you.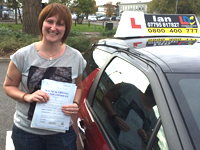 Nicola
Fantastic instructor, was great seeing my mistakes and took the time to get me to a high standard of driving. I felt comfortable with Ian and would highly recommend him to friends and family.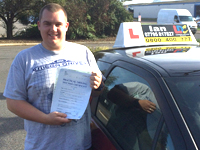 Stuart
I would highly recommend Ian as he has been very patient with me and has helped me grow confidence in driving, he is calm and very professional teacher and he is very flexible with my job and i have enjoyed my lessons with him. With a encyclopedia of knowledge about driving choosing him was the best decision i made.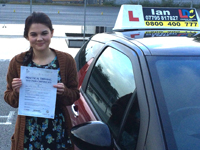 Chloe
I liked driving with Ian, I am a nervous driver and having just one hour a week was just enough for me.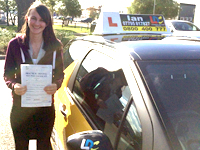 Emma
Passed my test 2nd time (all the good ones do) Ian was always very good, encouraging an d would do what you needed. Definitely recommended, Ian has lots of knowledge, and I am very happy to have passed my test.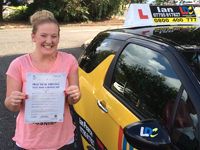 Paige
Ian is a very good instructor, I would definitely recommend him to anyone. He always stayed calm and I was never made to feel uncomfortable. He built up my confidence and I now feel I can drive confidently on my own.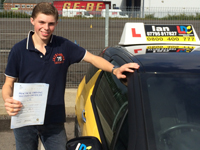 Winston
Very good instructor, always calm and happy, go with Ian any day.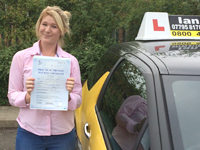 Lauren
I found learning to drive with Ian very helpful as he was very patient even when I found things particularly hard. I would definitely recommend him to new drivers.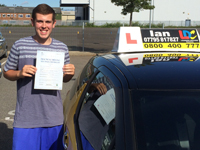 Tyler
Ian was very informative instructor, always on time, and even getting the odd 5-10 mins extra, overall ian is avery welcoming person and easy to get on with.
Robyn
I have found my driving lessons really good fun and rewarding. I would feel comfortable driving on my own now thanks to all my lessons. Although I did make mistakes I've felt stupid and I know if I have any questions I can just ask. Thank you.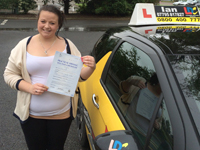 Lauren
My lessons were great, I felt comfortable with ian as my driving instructor. You taught me everything that i needed to know and got me through my test. Thank you again.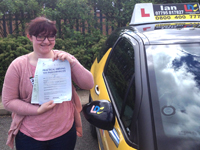 Jemma
Excellent driving instructor. He was able to boost my confidence loads with my driving. Easy to get on with and make conversation. Thank you.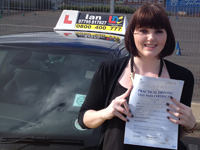 Zara
After having 50 lessons with a previous driving school I had lost a lot of confidence in my driving ability and felt that I had hit a dead end. Ian was really great from the start, assessing my ability and suggesting the appropriate length of driving course.
I found I really enjoyed driving again, something that hadn't happened before and gained the confidence I had previously lost. Ian has a very patient method of teaching with lots of great tips to make things easier. I would definitely recommend Ian to anybody looking to take a driving course in norfolk.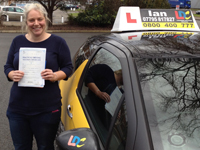 Sheniz
Ian has been a great instructor, he is always positive and has helped build my confidence to to pass my test. I always came away from each lesson having learnt something new and having the confidence to know I can do it. I would definitely recommend Ian to every new driver.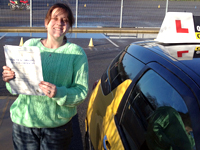 Leanne
A great big thank you Ian you helped me get that pass. You never got annoyed at me doing silly things, You put me at ease in the car which is no mean feat.
You helped give me the confidence that I could drive and could pass my test. Thank you again.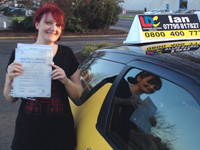 Cher
I chose Ian as he is a reliable instructor and very patient. He gives great advice, I am glad I chose him as I passed 1st time. Many thanks Ian your a star.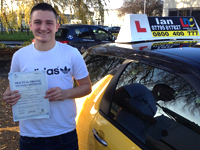 Matty
I have enjoyed my time driving with Ian. He has been reassuring throughout the whole time. Ian was very calm and relaxed when driving with me. I found that to be a big positive when driving with Ian as I never felt under pressure while driving. He is a great person to learn with and I would recommend him to other learners.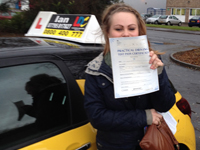 Lauren
I chose Ian because he had really good deals. Fantastic instructor. Highly reccomended.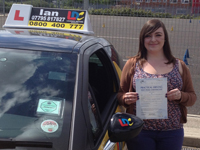 Estelle
My mum found Ian on Facebook as i needed a new driving instructor because my current one had given up on me and just made me too nervous, feeling like i wouldn't ever pass my driving test.
Ian came over to chat with me and my mum and I booked some lessons. Ian was much better than my previous instructor and Ian helped me to conquer all the issues with nerves and soon enough I began to feel like I could drive and would be able to pass. Ian supported me and gave me confidence, which raised my standard of driving.
Finally the nerves were gone and test day approached, the much awaited pass! Thanks you!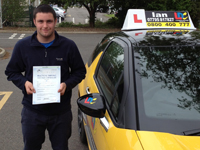 Ben
I found Ian on Facebook and choose him for his good reviews. I found his intstruction brilliant and highly recommend him to anyone wanting to lean to drive.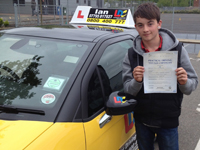 Ryan
I chose Ian as my driving instructor because of his good reputation and good reviews on his website. I am glad i chose Ian as he is good at what he does and he is easy to on with . You don't feel under any pressure to buy extra lessons and he is very good on prices and has some very good deals.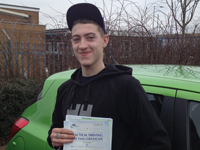 Bradley
I found Ian a very good instructor to learn with, easy to get along with and always on time to pick me up.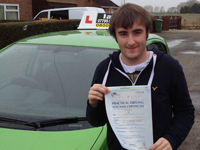 Luke Jackson
I found my experience with LDC (Ian) very enjoyable very friendly and polite. Ian filled me back up with confidence for me to succeed in passing my test. I will be recommending LDC (Ian) in the future, great experience.
Call today on 01553 810636 or 07795 817827 or Email me to find out more
If you have any questions or to book lessons today, feel free to contact me